All-In-One Led Flashlight
Upto 35% Off

Min-Max Quantity

Discount

2 - 2

20%

$

19.99
3 - 3

25%

$

18.74
4 +

35%

$

16.24
Description
Product Features
Super bright 110 lumens led with an intense beam of light up to 260 feet
Hands free flashlight: You can Hang-IT, Stick-IT, Clamp-IT, Wrap-IT, Stretch-IT!
Heavy duty, tough built, compact, flexible, multi-purpose makes the FUSO™ All-In-One LED Flashlight the perfect fit for any use
Runs on 3 AAA batteries (not included) and gives hours of use
All coloured parts can be interacted with; the top is on/off, the middle is a clamp, the bottom is the hanging hook
---
Product Description
FUSO™ All-In-One LED flashlight is one of the most versatile flexible hands free flashlights on the market today. Hang-IT, Stick-IT, Clamp-IT, Wrap-IT, Stretch-IT! Super bright 110 lumens LED with an intense beam of light up to 260 feet.
Heavy duty, tough built, compact, flexible, Multi-Purpose makes the FUSO™ All-In-One LED flashlight the perfect fit for sports enthusiasts, campers, bikers, hunters, plumbers and plumbing contractors, HVAC contractors, electrical contractors, auto mechanics, home inspectors, doctors, police officers. Compact Size yet stretchable feature makes it ideal for hard to REACH areas.
Keep one in your kitchen drawer, car glove compartment, tool box or wherever you need quick and dependable light. Runs on 3 AAA batteries (not included) and gives hours of use. This flashlight has a 50mm diameter and 250mm length but can be stretched up to 575mm long. Designed in Canada, manufactured in China. Comes in illustrative gift box window packaging. Ideal for day to day or emergency use.
Rotate the top colored ring for switching the LED flashlight on or off. For changing battery, rotate the bottom colored ring, jaws will open, remove the top jaw by sliding it out and the cartridge for batteries can be taken out. For using the clamping feature, rotate the bottom colored ring for the jaws to open, place the open jaws onto surface then rotate the colored ring to tighten the clamp securely. The Rubberized flexible jaws clamp on uneven surfaces.
"Got this as a gift for dad. He has many many flashlights and said "I've never quite seen one like this before". He loves the ability to clamp the light to many surfaces, edges, etc. also surprisingly very bright!" – Anthony
Rear of flashlight has 2 strong magnets which stick on any iron based Metallic surface for hands free working. Rear end of flashlight has colored hook which can be swiveled up to form a hanging hook. The main Body of flashlight is made out of a flexible and Stretchable Material.
This FUSO™ product carries a warranty against defects in workmanship and materials when used in household applications. This product is not guaranteed against normal wear, breakage or misuse.
We all know that every home in North America needs a flashlight.  Whether your power goes out, or you need to see what's under the sink or the hood of your car, being able to see when we need to is important.
Being able to see what we're doing is great, but if we're limited by what we can do while we're looking, then what's the point?
This is the inspiration for our first All-In-One LED Flashlight by FUSO™.  The FUSO™ All-In-One LED Flashlight transforms the traditional flashlight into a hands free and multifunctional tool that transcends basic usability, offering a wide array of possibilities to the user.
Not only does the FUSO™ All-In-One LED Flashlight keep your hands ready for the task, its light bulb and reflector plate is inspired by German high performance automobile headlight design.
This light is quickly becoming a must-have household product that is suited for all individuals and families.The FUSO™ All-In-One LED Flashlight is also well suited for the following people:
Sports Enthusiasts – Whether you're on your bike or hiking a mountain, this lightweight, versatile LED flashlight will keep the world bright around while keeping your hands free to do what you need to do outdoors.
Campers – If camping is where you spend your time, the FUSO™ All-In-One LED Flashlight will become your best friend.  Ideal for hanging in your tent with its convenient neat, compact hook for hands-free light at night.  This light exemplifies functionality, diversity, and simplicity.
General Contractors and Professional DIYers – When it comes to using a utility light around the house, nothing compares to the All-In-One LED Flashlight.  It's high power magnet will allow you to stick it to any ferrous metal.  From ventilation ducts to metal work benches the magnet will not let you down.  The neat, compact hook lets you hang this light anywhere you need to see and its coil function, lets you wrap it around pipes of any type for seeing those tough dark spots.
Shop and At-Home Mechanics – Under the hood and under the car, the hook, magnet, and coil function will let you hang it, stick it, or wrap it anywhere you need light.  The LED light bulb will also make the darkest corners of your car, truck, or boat, seem like they are under the sun!
International Shipping: This item can be shipped to select countries outside of the Canada
---
Frequently Asked Questions
How to switch on Or Off the flashlight?
The colored ring on top where one can see the lens – Rotate colored ring in clockwise direction to Switch ON and anticlockwise direction to Switch OFF
How to Use it as a clamp to use it as a lamp on my headboard/picnic table?
There is a colored ring towards the bottom of flashlight, Hold the colored ring and rotate in clockwise direction to open the clamp. As you rotate, the opening area for the clamp will increase. Insert open jaw on to object and once positioned well (flat portion of metal bar touches the headboard/table) and start rotating in anti-clockwise direction. Tighten it on surface to enjoy your experience.
Kindly take precautions to avoid scratches or damage to your surface of furniture etc. Please note that the jaws on both ends of clamp are rubberised to protect the surface, and are flexible to take care of little uneven surfaces.
How to add batteries to the flashlight?
Please follow these steps
A Rotate colored ring in clockwise direction to open the clamp
B Pull the rubber/plastic jaw out
C look for a transparent plastic tab, hold it and lift the battery compartment out
D insert 3 AAA batteries as shown on the battery compartment. Please ensure proper polarity instructions while inserting.
E insert back the battery cartridge back in housing
F put back the jaw in position.
G Rotate colored ring in counter clockwise direction to close the clamp
H Enjoy your All in One Flashlight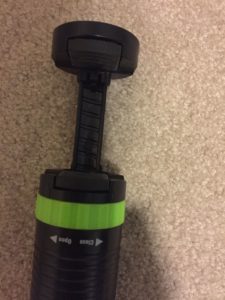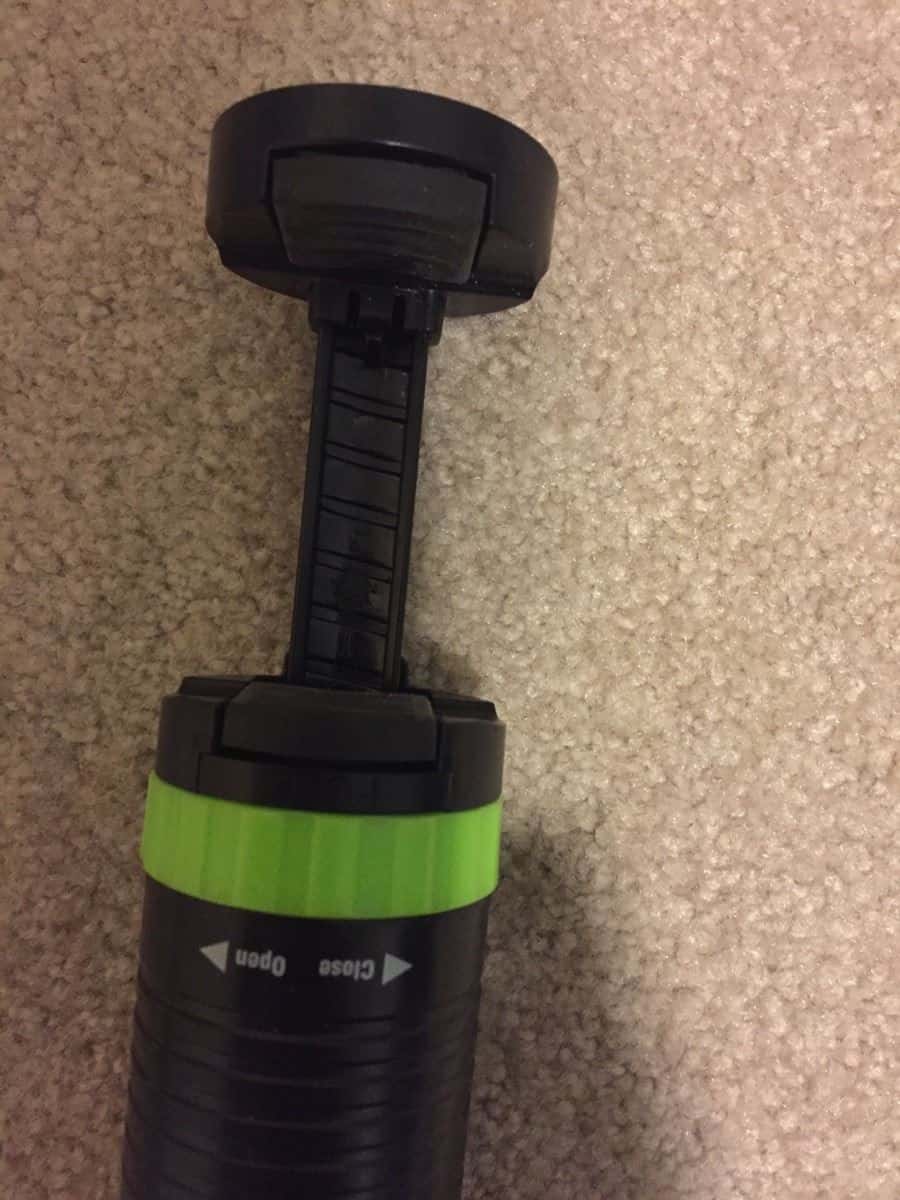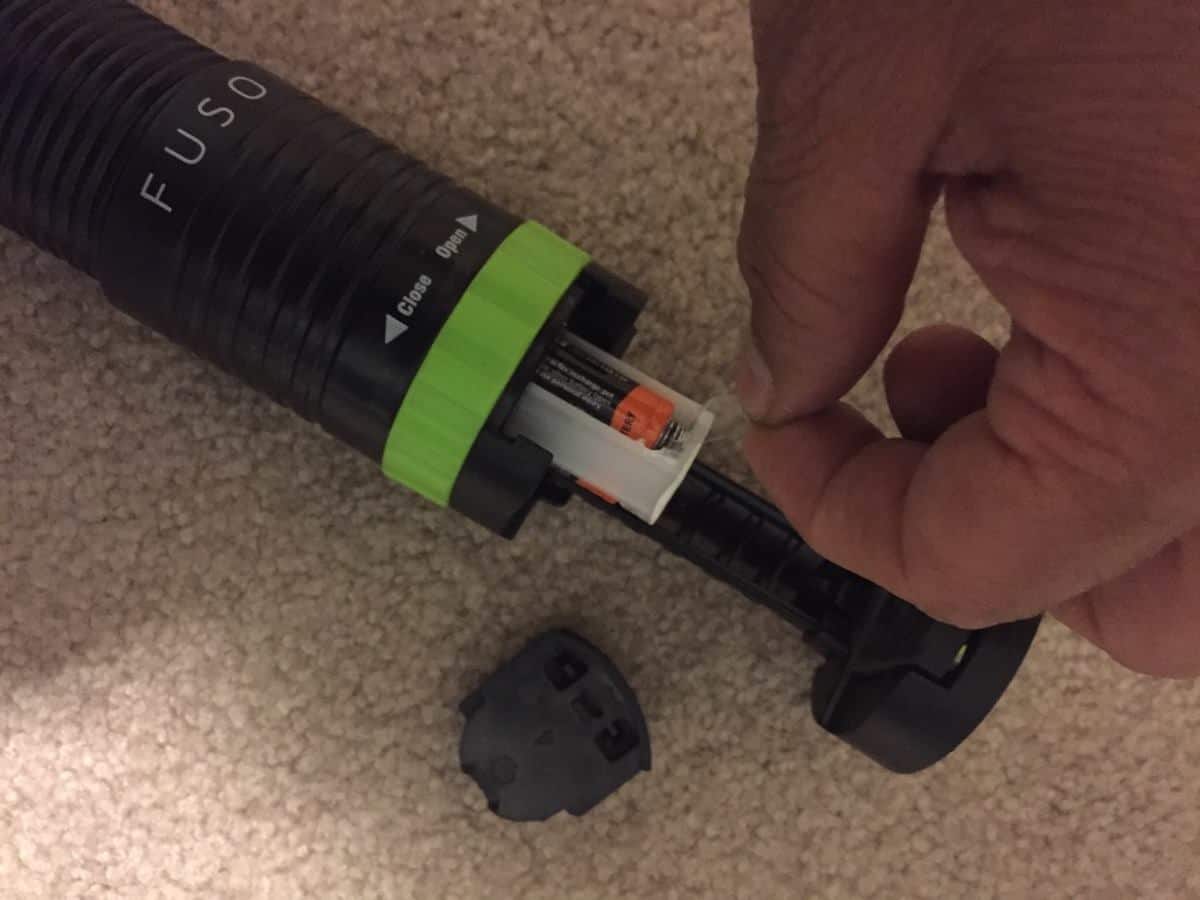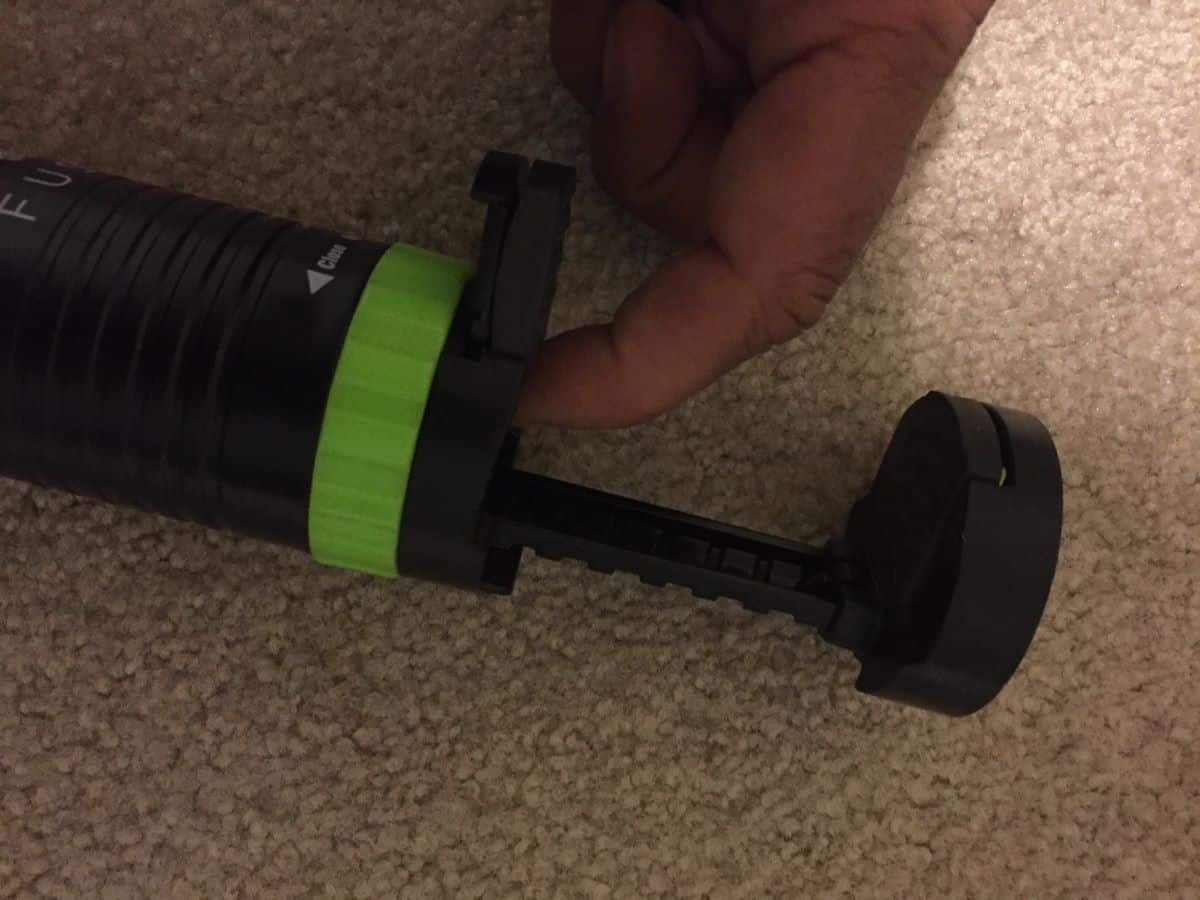 Additional information
| | |
| --- | --- |
| Weight | 251 lbs |
| Dimensions | 28.5 × 5 × 5 in |
| Color | Green, Yellow, Red |
| Brightness | 110 Lumen |
| Beam Distance | 260 feet |
| Stretch from | 250 mm to 575 mm |
If you're not completely satisfied with your FUSO purchase you may return it within 30 days of the purchase date for a replacement or full refund. Please fill out this form with your order number and we will send you an easy-to-print return label to send the product back to us. Refunds are deposited back to your original payment method.
Original shipping charges are non-refundable unless the return is related to our error.